All functions
SCAFFEYE is available in various versions, as a smartphone app and in a desktop variant. SCAFFEYE is perfectly tailored to meet the needs of everyone involved and provides every user with needs-based tools and functions.
SCAFFEYE thus makes handling scaffolding easier and establishes verifiable safety.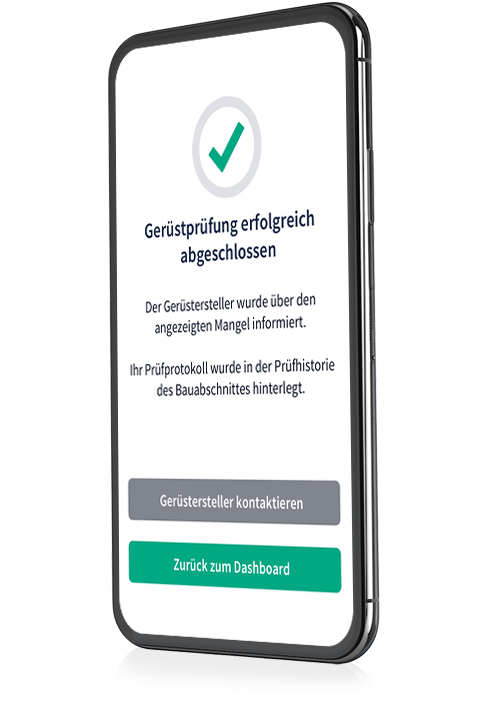 Simple safety testing in accordance with the law
SCAFFEYE enables all users to carry out simple digital safety testing of any scaffolding using a smartphone app (iOS & Android).
Generation and printing of release using the SCAFFEYE QR code
SCAFFEYE QR code to access digital testing and project review
Manual testing possible using smartphone app without QR code
Traceability of work on a scaffold
Block and release scaffolds/building sections
Storage of test logs with time stamp
Up-to-date specialist information & legal information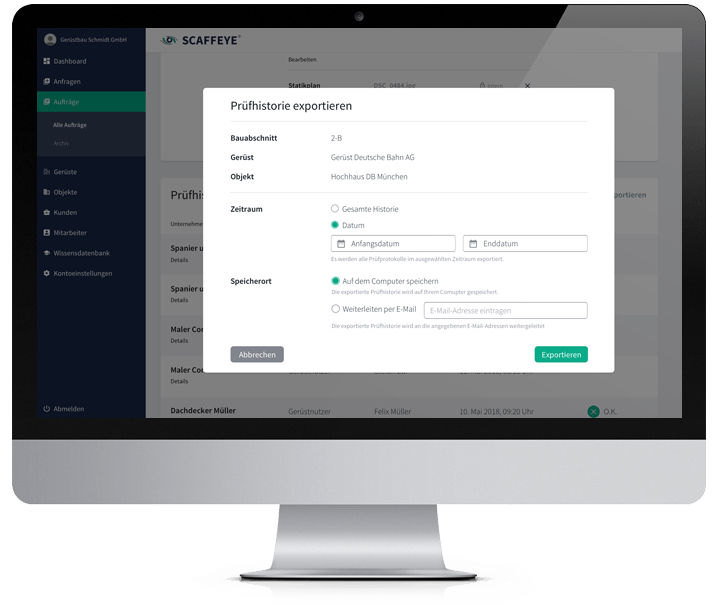 Digitisation of all safety tests
SCAFFEYE digitises and stores all safety tests, manages them centrally and makes them available at any time.
Complete digital test history
Test history, test and scaffold status can be viewed at any time
Central management of test logs
Photographic documentation, comments & attachments
Export and mailing of test logs as PDF files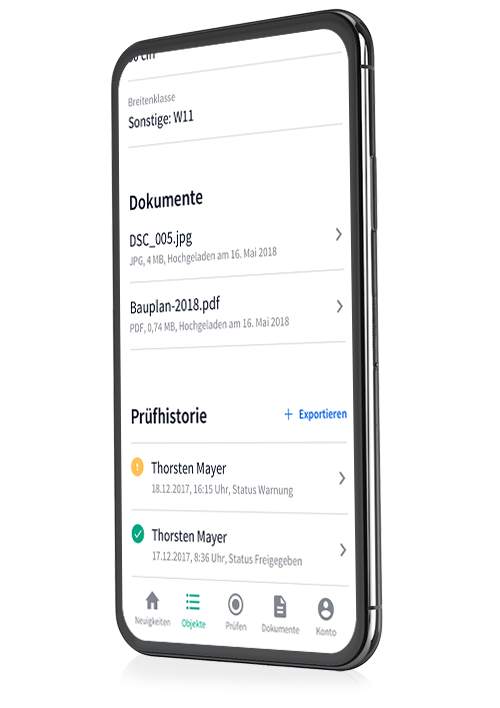 Building information modeling
SCAFFEYE is a versatile digital tool that ensures safety and transparency and effectively saves time and money.
Transparent communication with everyone involved
Versatile digital tool
Viewing of scaffold planning, construction drawings/structural calculations
Comments function for independently created scaffolds for discussion of drawings (e.g. collision points, construction site status)
Upload of all CAD-capable data, PDF and JPG files
Viewing of scaffold planning and documentation (after release by scaffolding company)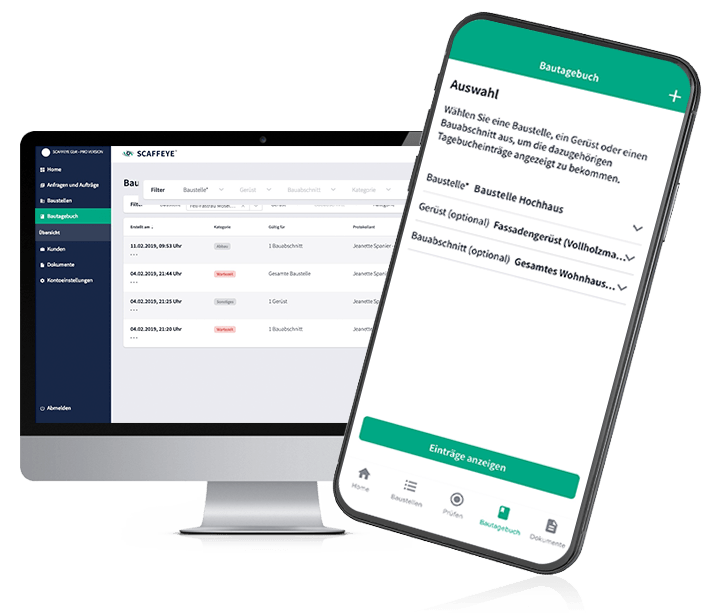 Construction diary in app and web platform
SCAFFEYE enables users to more effectively document construction sites with the help of the integrated construction diary.
Create contributions to different categories
PPE documentation, construction, dismantling, maintenance / repair, damage to the property, waiting time, storage, other
Easily filter the posts
Automatic filing in the respective project
Export as PDF via the web platform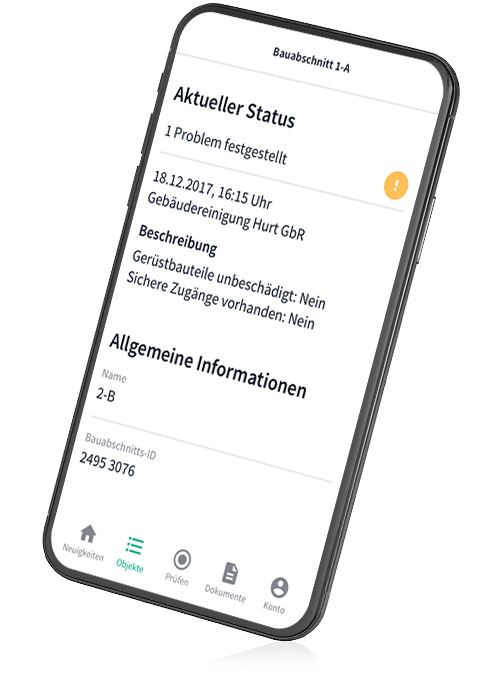 Easier communication
SCAFFEYE enables all users to communicate efficiently and transparently with everyone involved.
Efficient, traceable communication with everyone involved
Real-time notification of scaffold status
Direct notification of blocks and releases
Notification of delay and registration of concerns (to follow shortly)
Upload of documents, e.g. for assembly and instructions for use
Site and scaffolding management
SCAFFEYE makes it easier to manage any number of scaffolds, whether it's the company's own or external.
Management of any number of scaffolds
Create and edit external scaffolds (to follow shortly)
Overview of released & blocked scaffolds
Overview of structural scaffold status
Viewing of stability and load safety analysis
Photographic documentation, notes & attachments
Management of external and internal documents
Viewing of external documents
Block request to scaffolding companies
Save anchor reports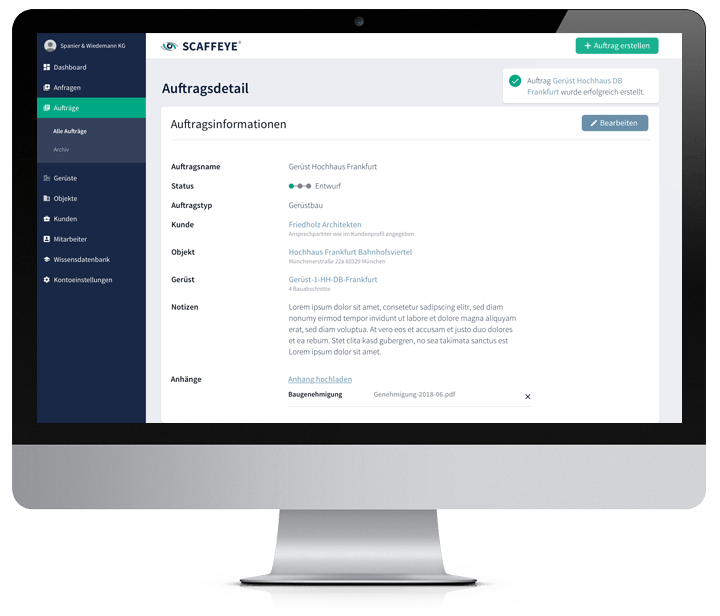 Optimised order management
SCAFFEYE centralises the management of scaffolding through the use of customised versions and simplifies data storage and communication between everyone involved.
Centralised management of construction sites and scaffolds
Needs-based tools and functions
Management of job requests and orders
Project management
Overview of commercial scaffold status
Customer management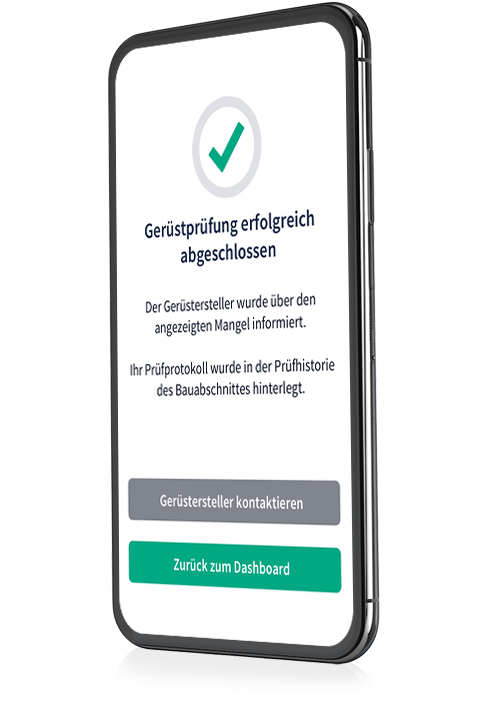 We set standards
Our goal is to make scaffolding more secure with the help of digitization. That is why we initiated the new DIN SPEC 91402:2019-09 "Digital planning, testing and required inspection of scaffolding".
Which plan suits my company?
SCAFFEYE is available in various versions, as a smartphone app and in a desktop variant. SCAFFEYE is perfectly tailored to meet the needs of everyone involved and provides needs-based tools and functions for scaffolding contractors, craftsman, planners & security coordinators and scaffolding users.
Contact us! Together we will find the right plan for your company.
Request a quote now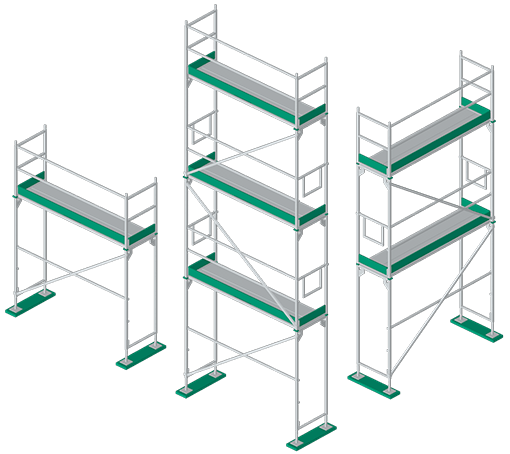 Register now and


test for 30 days
free of charge Register now
Test all functions free of charge
Can be canceled monthly
Management of job requests and orders
Site and scaffolding management
Safety tests
Smartphone app & web platform
* After the trial period, the subscription continues automatically. The subscription can be canceled at any time every month.