The complete solution for the digital future
SCAFFEYE optimises the work of safety coordinators. They can be integrated easily into projects and have a compact overview of the status and history of the scaffolding. This makes planning easier and allows them to respond to problems more quickly.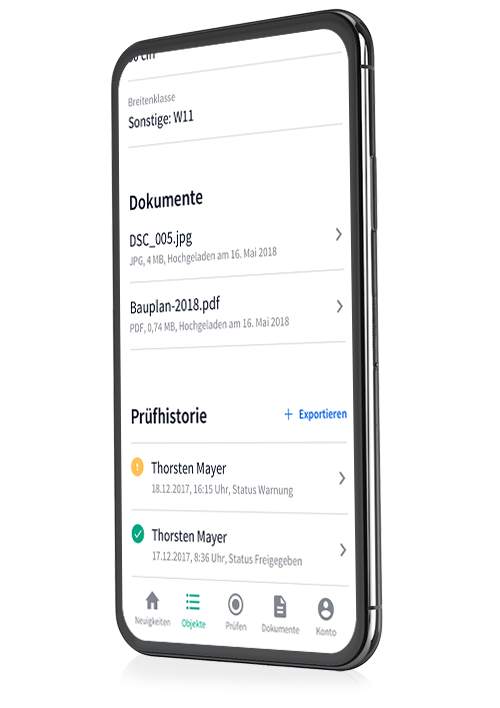 Building information modeling
SCAFFEYE schafft Sicherheit und Transparenz und spart als vielseitiges, digitales Werkzeug effektiv Zeit und Kosten.
Transparente Kommunikation mit allen Beteiligten
Vielseitiges, digitales Werkzeug
Kommentarfunktion für selbst angelegte Gerüste zur Besprechung von Zeichnungen (z.B. Kollisionspunkte, Baustellenstatus)
Einsicht in die Gerüstplanung und Unterlagen nach Freischaltung durch Gerüstersteller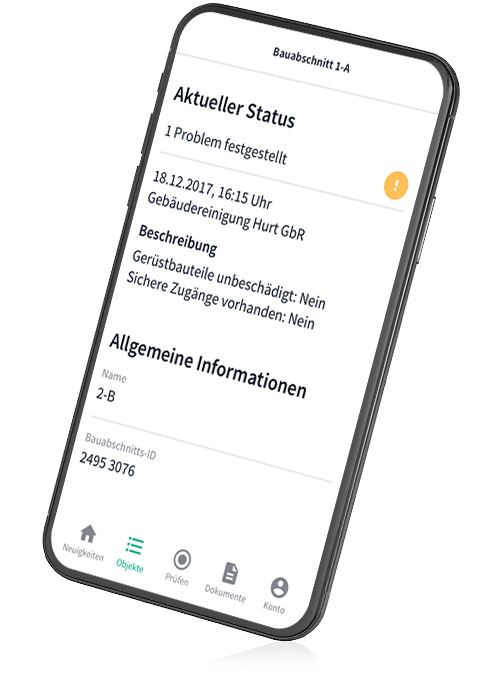 Vereinfachte Kommunikation
SCAFFEYE ermöglicht allen Nutzern eine effiziente und nachvollziehbare Kommunikation mit allen Beteiligten.
Effiziente und nachvollziehbare Kommunikation mit allen Beteiligten
Echtzeitbenachrichtigung über Gerüststatus
Direkte Benachrichtigungen über Sperrungen und Freigaben
Behinderungsanzeige und Bedenkenanmeldung (folgt in Kürze)
Upload von Dokumenten, z.B. für Aufbau und Verwendungsanleitung
Overview of scaffolds and construction sites
SCAFFEYE erleichtert die Verwaltung beliebig vieler eigener und fremder Gerüste.
Übersicht von freigegebenen & gesperrten Gerüsten
Übersicht über baulichen Gerüststatus
Einsicht in externe Dokumente
Sperranfrage an Gerüstersteller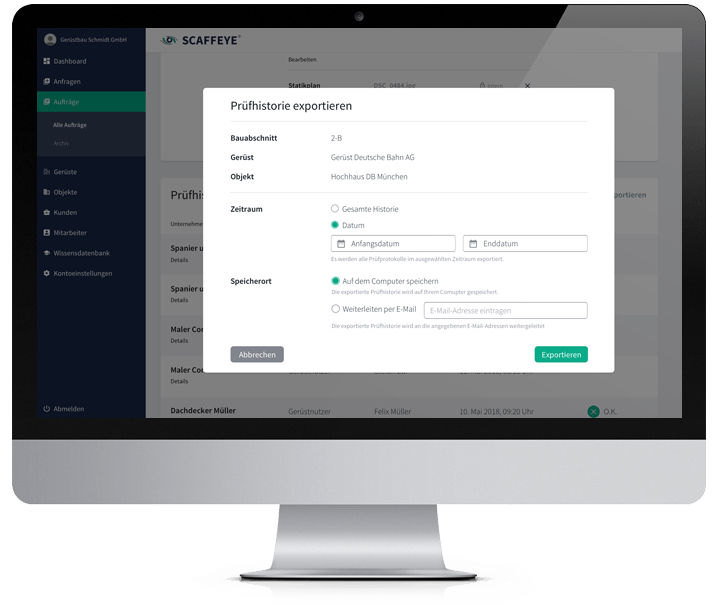 Digitalisierung aller Sicherheitsprüfungen
SCAFFEYE digitalisiert und speichert alle Sicherheitsprüfungen, verwaltet sie zentral und macht sie jederzeit verfügbar.
Vollständige digitale Prüfhistorie
Prüfhistorie, Prüfungs- und Gerüststatus jederzeit einsehbar
Export und Versand von Prüfprotokollen als PDF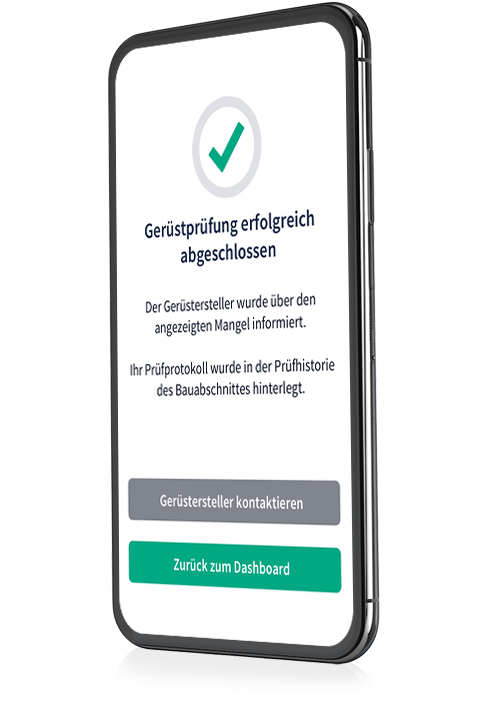 Viewing of all safety tests
SCAFFEYE ermöglicht allen Nutzern eine unkomplizierte und digitale Sicherheitsprüfung jedes Gerüstes per Smartphone App (iOS & Android).
Nachvollziehbarkeit der Arbeiten an einem Gerüst
Aktuelles Fachwissen & rechtliche Informationen
Which plan suits my company?
SCAFFEYE is available in various versions, as a smartphone app and in a desktop variant. SCAFFEYE is perfectly tailored to meet the needs of everyone involved and provides needs-based tools and functions for scaffolding contractors, craftsman, planners & security coordinators and scaffolding users.
Contact us! Together we will find the right plan for your company.
Request a quote now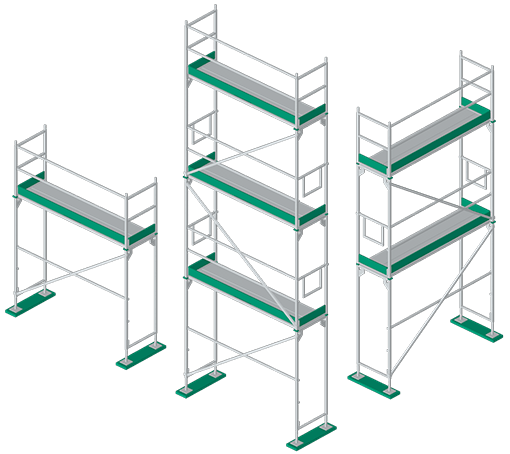 Register now and


test for 30 days
free of charge Register now
Test all functions free of charge
Can be canceled monthly
Management of job requests and orders
Site and scaffolding management
Safety tests
Smartphone app & web platform
* After the trial period, the subscription continues automatically. The subscription can be canceled at any time every month.